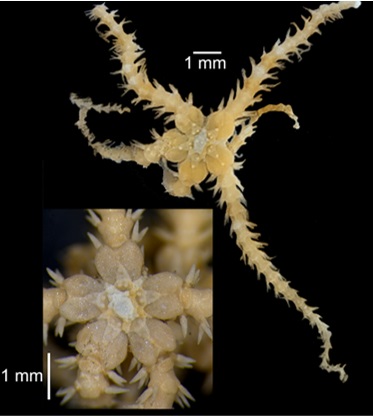 Phylum: Echinodermata
Class: Ophiuroidea Gray, 1840
Order: Ophiacanthida O'Hara, Hugall, Thuy, Stöhr & Martynov, 2017
Family: Ophiacanthidae Ljungman, 1867
Ophiomoeris obstricta (Lyman, 1878)
Collection: Kavaratti Island — Seawater tank of NIOT Desalination Plant, collecting water from ~350m depth (10° 34.44' N, 72° 38.40' E), coll. M. Nowshad on 12.12.2019.
Voucher No.: CMLRE IO/SS/ECD/00234, 00235
Description: Disc deeply incised with large, petal-like radial shields and bearing rounded conical granules on the disc scales.  
Biological association: The specimens were found attached to an unidentified gorgonian.
Remarks: None.
Distribution: Madagascar, Comoros, Maldives, India (Lakshadweep), Indonesia, Papua New Guinea, New Caledonia, Philippines, Vanuatu, Australia, New Zealand, Japan, Hawaii; 35-1100m
Distribution map: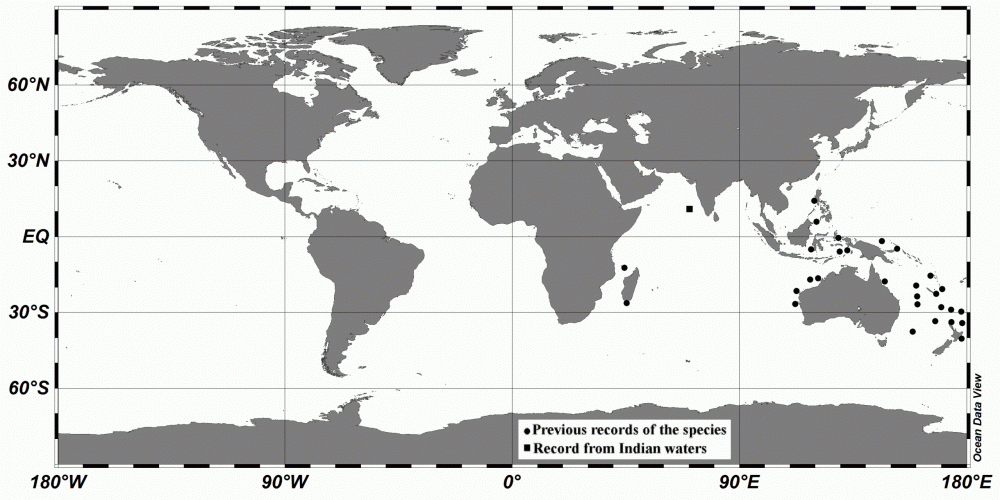 Identified by: Usha V. Parameswaran
Publication: Parameswaran U. V., Mohammed Noushad B., Dixit S., Hashim M., Idrees Babu K. K., Saravanane N. 2020. New records of brittle stars (Echinodermata: Ophiuroidea) from the Lakshadweep atolls, northern Indian Ocean, with notes on Indophioderma ganapatii Sastry, Marimuthu & Rajan, 2019. Zootaxa, 4809(3):560-570. DOI: 10.11646/zootaxa.4809.3.9.