Phylum: Echinodermata
Class: Ophiuroidea Gray, 1840
Order: Ophiodermatidae Ljungman, 1867
Family: Asteroschematidae Verrill, 1899
Ophiarachnella septemspinosa (Müller & Troschel, 1842)
Collection: Agatti Island — western reef (10° 51.97' N, 72° 12.42' E, 20m), coll. S. Dixit on 06.11.2018 by SCUBA diving.
Voucher No.: CMLRE IO/SS/ECD/00021
Description: Body uniformly dull greyish green with granule covered disc, leaving only small, dark green, circular radial shields bare. Arm spines adpressed, as long as segment, except the ventral-most which is twice as long, distinctly flattened with squared-off tips.
Biological association: None.
Remarks: None.  
Distribution: Saudi Arabia, Kenya, South Africa, Madagascar, Reunion, Mauritius, Maldives, Sri Lanka, Indonesia, Christmas Island, Papua New Guinea, Australia, New Caledonia, Fiji, Philippines, Japan; intertidal to 50m.
Distribution map: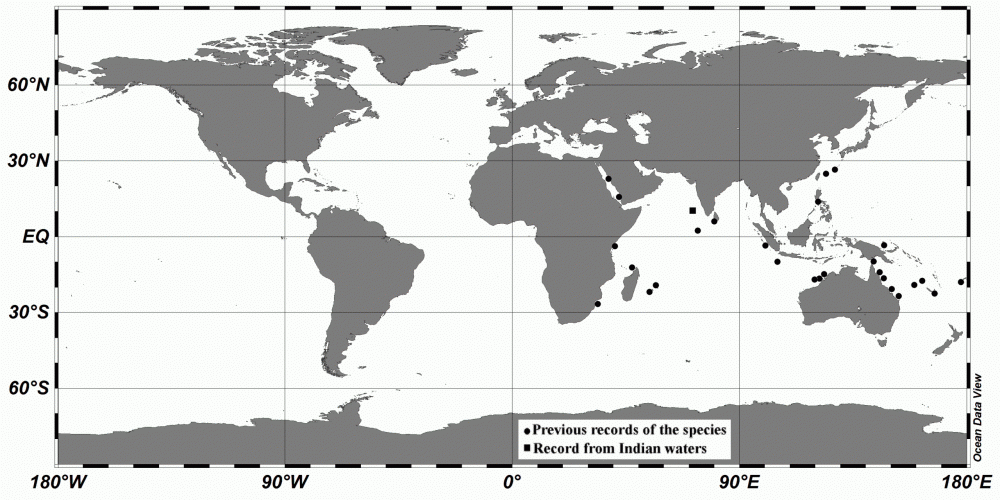 Identified by: Usha V. Parameswaran
Publication: Parameswaran U. V., Mohammed Noushad B., Dixit S., Hashim M., Idrees Babu K. K., Saravanane N. 2020. New records of brittle stars (Echinodermata: Ophiuroidea) from the Lakshadweep atolls, northern Indian Ocean, with notes on Indophioderma ganapatii Sastry, Marimuthu & Rajan, 2019. Zootaxa, 4809(3):560-570. DOI: 10.11646/zootaxa.4809.3.9.