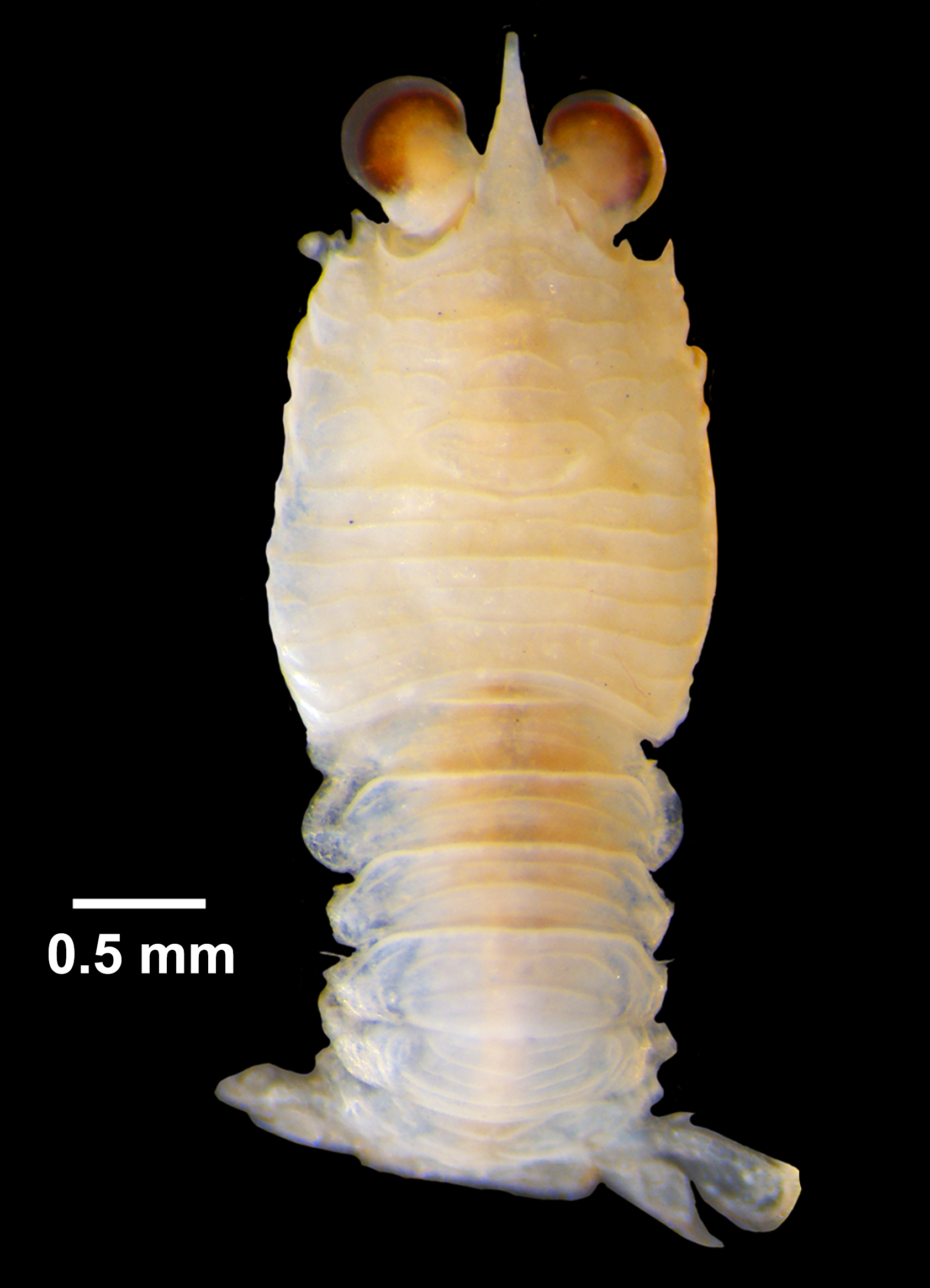 Phylum: Arthropoda
Class: Malacostraca Latreille, 1802
Order: Decapoda Latreille, 1802
Family: Galatheidae Samouelle, 1819
Allomunida magnicheles Baba 1988
Collection: Bay of Bengal, northeast off Puducherry – 11.99°N, 80.08°E, 52 m, 16.07.2005 (FORVSS 236 St. 30), Smith McIntyre grab
Voucher No.: CMLRE IO/SS/ANO/00151
Description: Small galatheoid crab possessing carapace slightly longer than wide; dorsal surface gently convex transversely, transverse ridges on epigastric, protogastric and mesogastric regions interrupted and those on gastric region interrupted or uninterrupted; epigastric region with 1 pair of small submedian spines. Midtransverse ridge uninterrupted, followed by 6 transverse ridges including posterior submarginal ridge, first, third and fifth ridges interrupted, remaining ridges uninterrupted. Frontal margin concave. Anterolateral spine reaching level of acute lateral limit of orbit. Branchial margin with 2 and 3 spines on anterior and posterior parts, respectively. Rostrum elongate, narrowly triangular; lateral margins with 3 or 4 rudimentary teeth along proximal half. Thoracic sternite 3 depressed medially bearing short setose transverse ridge; anterior margin serrate, with 2 acute processes separated by narrow V-shaped median notch. Sternite 4 with 2 setose transverse ridges medially. Pleon generally smooth, tergites with very few long setae, transverse striae bearing row of short setae. Antennular article 1 with 2 subequal lateral spines and 1 short mesial spine on distal margin. Antennal peduncle article 1 with distomesial spine overreaching distal margin of article 2; article 2 longer than wide, with or without short distolateral spine. Mxp3 merus with 2 spines on ventral margin, dorsal margin with small, distal blunt process. P1 merus lateral surface with 4 or 5 spines, mesial surface with 1 subdistal spine; dorsal surface with irregularly arranged 9–17 spinules. Carpus mesial surface with 1 acuminate distal spine and 3 or 4 small spines; dorsal surface with randomly placed 7 or 8 spinules. palm with irregular spinules along mesial margin and small spinule at dactylar articulation dorsally; fingers moderately slender, distally spooned, denticulate on occlusal margins, or, not gaping proximally, dactylus with moderately large triangular tooth proximally on occlusal margin.
Biological association: Inhabitant of the branches of soft-coral genus Dendronephthya Kükenthal, 1905.
Remarks: First record of the genus Allomunida Baba, 1988 from Indian EEZ.
Distribution: Philippines (type locality) and Bay of Bengal. Depth range: 10–472 m.
Distribution map: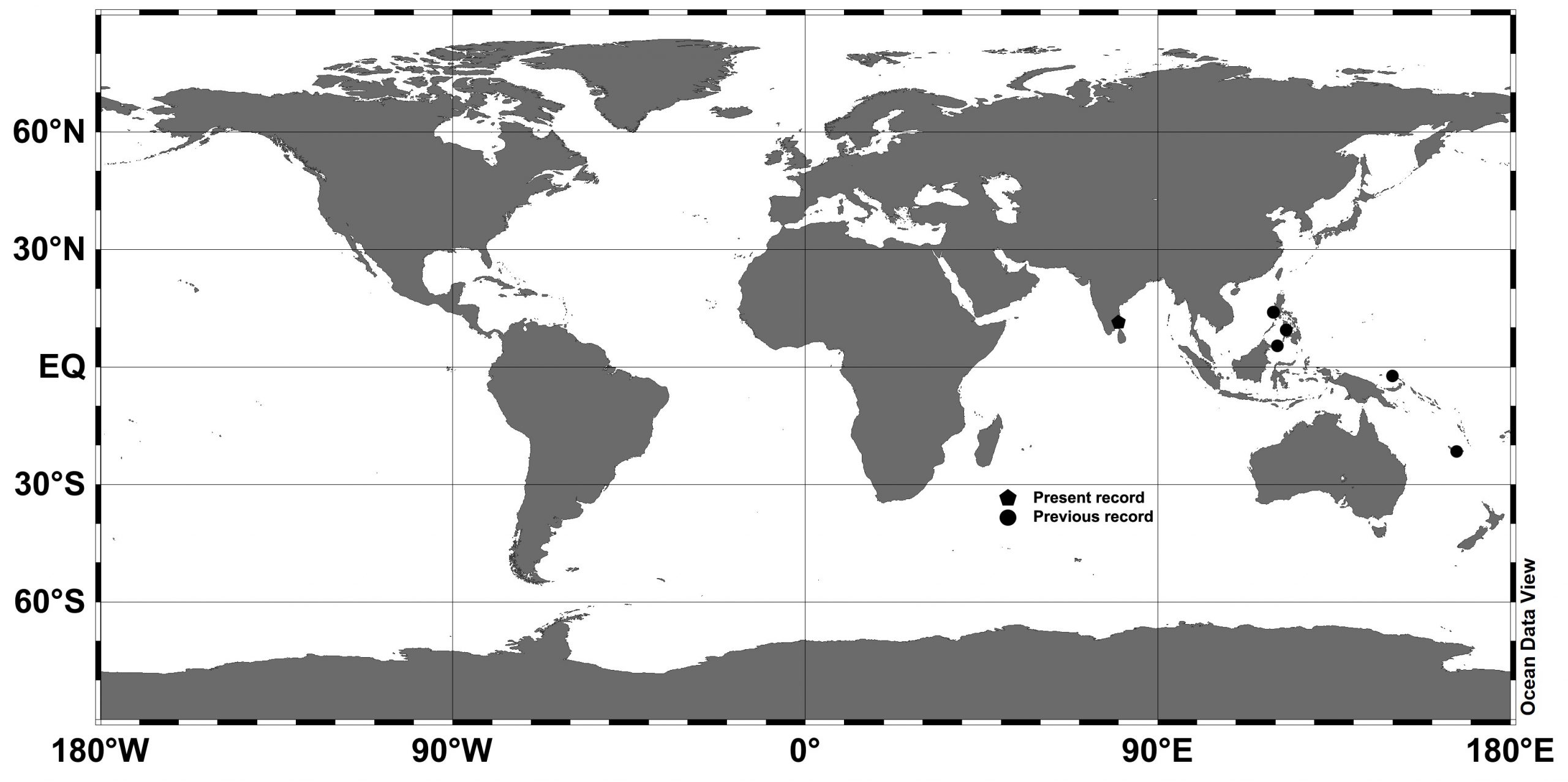 Identified by: Shivam Tiwari
Publication: Tiwari S., Padate V.P., Cubelio S.S., Osawa M. (2023) First record of the rarely known squat lobster, Allomunida magnicheles Baba, 1988 (Decapoda: Anomura: Galatheoidea: Galatheidae) from the Bay of Bengal, Northern Indian Ocean. Thalassas (2023). https://doi.org/10.1007/s41208-023-00540-x