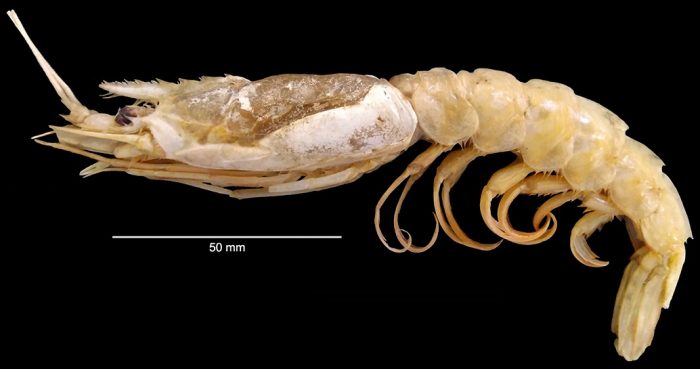 Phylum: Arthropoda
Class: Malacostraca Latreille, 1802
Order: Decapoda Latreille, 1802
Family: Solenoceridae Wood-Mason in Wood-Mason and Alcock, 1891
Haliporus taprobanensis Alcock and Anderson, 1899
Collection: Andaman Sea, 13.27°N, 93.26°E, 635 m, 26.11.2017 (FORVSS 367 leg II, St. 08). High Speed Demersal Trawl (Crustacean Version).
Voucher No.: CMLRE IO/SS/DEN/00076 and IO/SS/DEN/00077
Description: Integument firm; eye almost reaching the distal end of segment I of the antennal peduncle, cornea distinctly wider than the base of ocular peduncle, darkly pigmented; mid-dorsal ridge of abdominal somite I extending over half the space between transverse groove and posterior edge of somite; somite IV with tooth at the distal end of mid-dorsal ridge.
Biological association: None.
Remarks: First distributional record from the Indian Exclusive Economic Zone.
Distribution: South Africa, Madagascar, Sri Lanka, Andaman Sea (India), Indonesia and Philippines. Depth range: 520–1650 m.
Distribution map: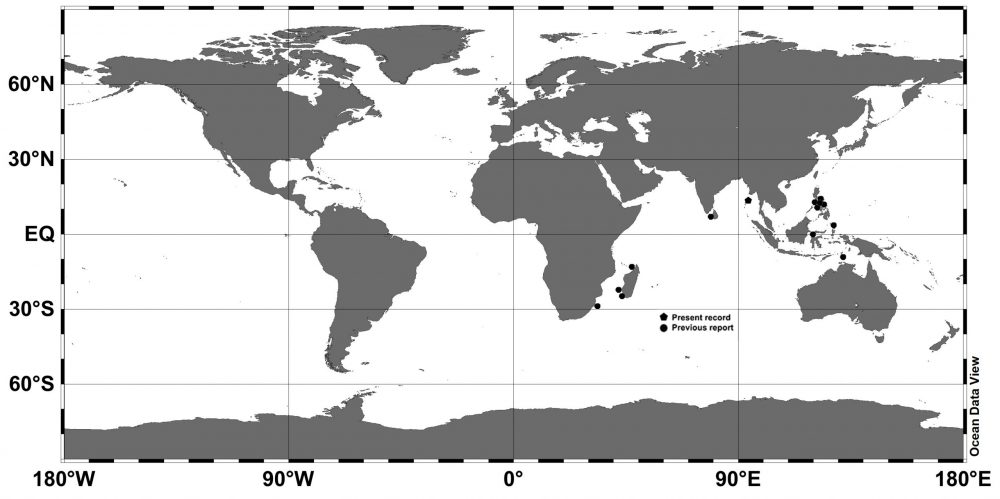 Identified by: Vinay P. Padate
Publication: Padate V.P., Mary Baby K.A., Sherine Sonia Cubelio, Saravanane N., Sudhakar M. (2020) First records of dendrobranchiate prawns (Decapoda: Dendrobranchiata) from the Andaman Sea, India. Journal of Natural History, 54 (7–8): 405–418. DOI: 10.1080/00222933.2020.1765035