Phylum: Arthropoda
Class: Malacostraca Latreille, 1802
Order: Decapoda Latreille, 1802
Family: Lithodidae Samouelle, 1819
Neolithodes indicus Padate, Cubelio & Takeda, 2020
Collection: SE Arabian Sea, continental slope off Thiruvananthapuram – 7.79°N, 76.46°E, 1324–1351 m, 15.07.2013 (FORVSS 316, St. 02), High Speed Demersal Trawl (Crustacean Version); 7.86°N, 76.41°E, 1060–1067 m, 25.07.2014 (FORVSS 327, St. 01), High Speed Demersal Trawl (Crustacean Version); 8.29°N, 76.03°E, 1275–1311 m, 10.09.2013 (FORVSS 319, St. 09), Expo net.
Voucher No.: CMLRE IO/SS/ANO/00094, IO/SS/ANO/00095 and IO/SS/ANO/00096.
Description: Carapace with numerous small secondary spinules on the carapace and pereopods in addition to the major spines. Cheliped dactyli with convex dorsal margins, rounded in cross section. Antennal peduncle with few, small, scattered granules or minute spinules, not distinctly spinose; scaphocerite simple. P2–4 meri compressed; flexor margin without large spines on P2–3, 4 spines on P4; extensor margin with several upright major spines protruding above level of secondary spines; pereopod 4 dactylus covered with spinules over surfaces of proximal four-fifths; ventral surfaces of coxae with blunt tubercles or granules.
Biological association: None.
Remarks: First distributional record of the genus Neolithodes A. Milne-Edwards & Bouvier, 1894 from the Indian Exclusive Economic Zone.
Distribution: Continental shelf off western India (known only from type locality). Depth range: 957 m.
Distribution map: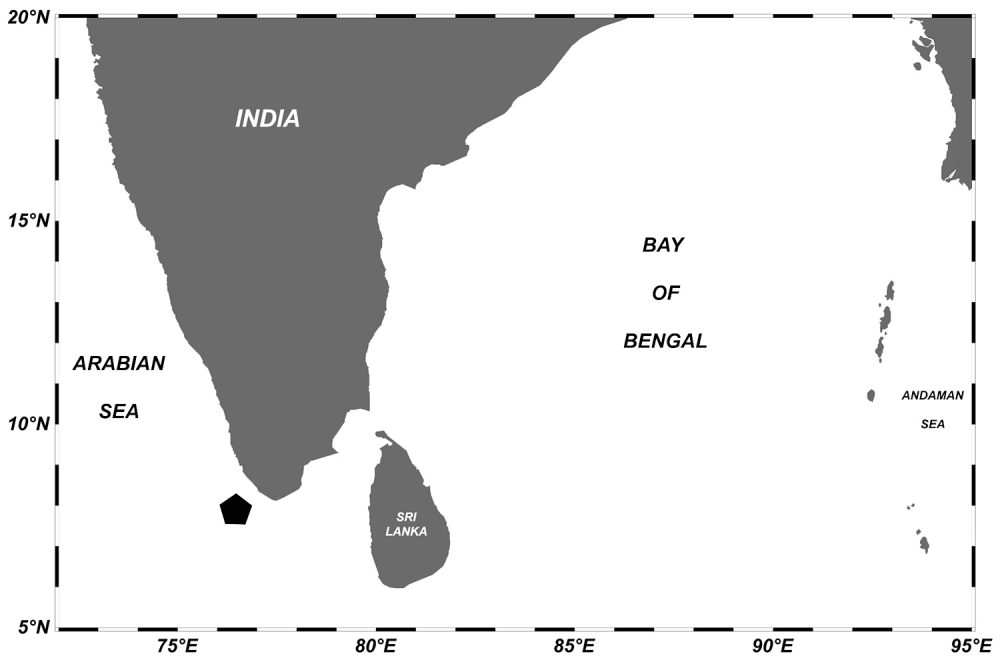 Identified by: Vinay P. Padate
Publication: Padate V.P., Sherine Sonia Cubelio, Takeda M. (2020) Description of a new species of deep-water king-crab (Crustacea: Decapoda: Anomura) from the southeastern Arabian Sea. Zootaxa, 4845 (1): 071–082. DOI: https://doi.org/10.11646/zootaxa.4845.1.5