Phylum: Echinodermata
Class: Ophiuroidea Gray, 1840
Order: Ophiacanthida O'Hara, Hugall, Thuy, Stöhr & Martynov, 2017
Family: Ophiopezidae O'Hara, Stöhr, Hugall, Thuy & Martynov, 2018
Ophiopeza spinosa (Ljungman, 1867)
Collection: Andaman & Nicobar Islands — Off Little Andaman, 10° 40.57' N, 92° 40.87' E, 49 m (FORVSS292, St.50), 04.12.2011, dredge. — Off Nancowry Island, 7° 59.84' N, 93° 38.29' E, 58 m (FORVSS292, St.70), 08.12.2011, dredge. — Off Great Nicobar Island, 6° 38.84' N, 93° 49.70' E, 56 m (FORVSS388, St.18), 16.08.2019, dredge.
Voucher No.: CMLRE IO/SS/ECD/00248, 00249, 00250.
Description: Disc pentagonal, arms about 5 times disc diameter. Disc scales coarse dorsally and ventrally, covered entirely by flat-topped granules. Marginal disc scales 5–7 in number, prominently convex under the disc granules. Oral shield longer than or as long as wide; sub-triangular with rounded margins and straight distal edge. Supplementary oral shield present, obscured completely or partially by disc granulation. Up to nine papillae along each side of the jaw. Arm spines less than half the lateral arm plate in length, pointed, adpressed; numbering 8–12; the ventral spines slightly longer, if at all. Dull cream colour with brown blotches on the disc and dark brown banding on the arms dorsally.
Biological association: None.
Remarks: Indophioderma ganapatii Sastry, Marimuthu & Rajan, 2019 described from Agatti Island, Lakshadweep is synonymised with Ophiopeza spinosa. Since this was the type and only species under genus Indophioderma, this genus name is rendered invalid, and herein synonymised with genus Ophiopeza.
Distribution: Widely distributed in the Indo-west Pacific, from South Africa to the Hawaii archipelago and French Polynesia; 0–110 m.
Distribution map: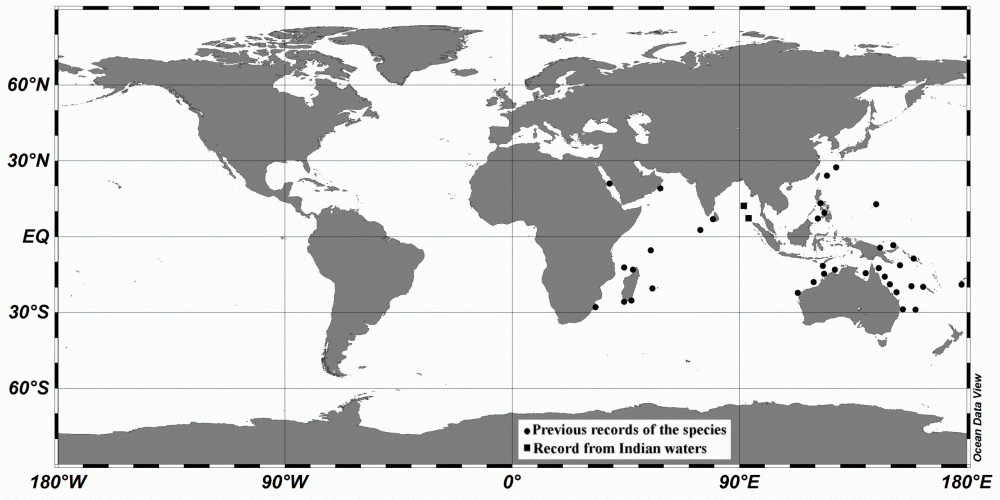 Identified by: Usha V. Parameswaran
Publication: Parameswaran U. V., Gopal A., Abdul Jaleel K. U., Saravanane N. 2021. Nine new records of brittle stars (Echinodermata: Ophiuroidea) from Indian waters. Marine Biology Research, 17(5-6): 434-453. DOI: 10.1080/17451000.2021.1967995.