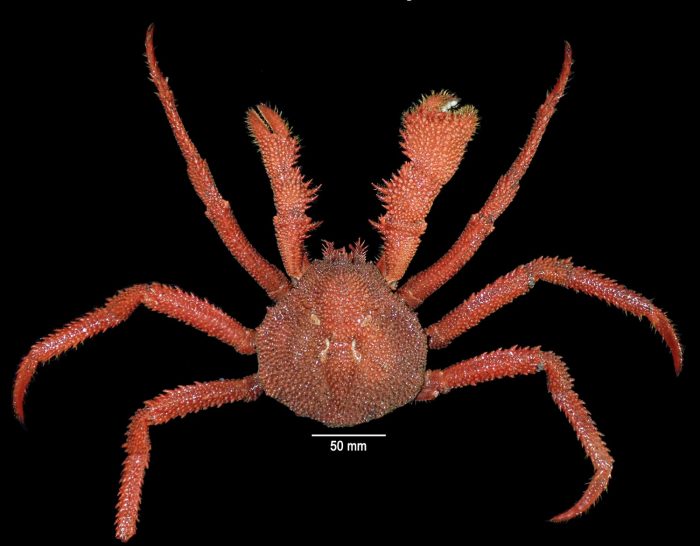 Phylum: Arthropoda
Class: Malacostraca Latreille, 1802
Order: Decapoda Latreille, 1802
Family: Lithodidae Samouelle, 1819
Paralomis ceres Macpherson, 1988
Collection: SE Arabian Sea, continental slope off Thiruvananthapuram – 8.41°N, 75.89°E, 1237–1245 m, 17.07.2013 (FORVSS 316, St. 09), High Speed Demersal Trawl (Crustacean Version); 8.64°N, 76.10°E, 1065 m, 23.09.2020 (FORVSS stn. 399, St. 01), High Speed Demersal Trawl (Crustacean Version)
Voucher No.: CMLRE IO/SS/ANO/00001 and CMLRE IO/SS/ANO/00122
Description: Small lithodid crab Carapace sub-pentagonal, PCL subequal to CW; regions distinct. Surface and margins uniformly covered mostly with rounded papilliform tubercles bearing a crown of single thin, stiff setae surrounding the apex, marginal tubercles short and blunt. Antennal scaphocerite bearing 5 inner and 5 outer spines Chelipeds unequal in both sexes, covered with well-spaced rounded tubercles. Pereopods 2–4 similar, elongate, covered with well-spaced small tubercles.
Biological association: None.
Remarks: First distributional record from Indian EEZ.
Distribution: Arabian Sea off Oman and off southwestern India. Depth range: 1065–1354 m.
Distribution map: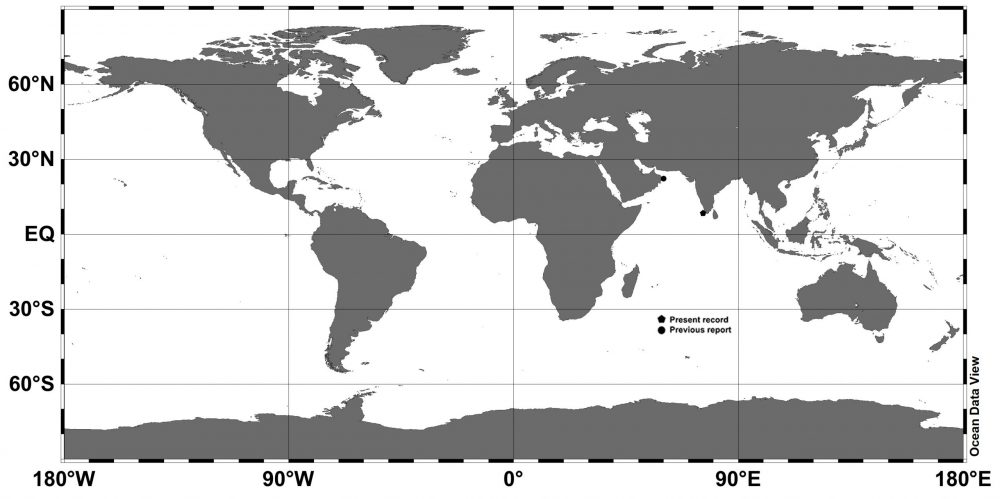 Identified by: Vinay P. Padate
Publication: Tiwari S., Padate V.P., Vishnu K.V., Cubelio S.S., Takeda M. (2022) Paralomis White, 1856 (Crustacea: Decapoda: Anomura) from India, with morphological variability in Paralomis indica Alcock & Anderson, 1899. Zootaxa, 5091 (2): 301-329. DOI: 10.11646/zootaxa.5091.2.4